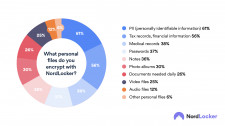 New survey finds that computer users encrypt their personal, financial, and medical information the most
LONDON, December 22, 2020 (Newswire.com) - With the global pandemic continuing to create chaos, personal data like Social Security numbers as well as tax, financial, and medical records seems to be the most important information stored on a personal computer, as NordLocker, the end-to-end file encryption tool, recently found.
Such results are the consequence of the growing number of identity fraud amid the global pandemic. According to the Federal Trade Commission, identity theft makes around 15% of all COVID-19-related fraud reports in 2020. "Hackers are living their best times, as people are now more vulnerable to digital exploitation than ever before. The panic affects the way we store personal information and increases the risk of data breaches," explains Oliver Noble, an encryption specialist at NordLocker.
Data from NordLocker shows that March, April, and May this year saw peaks in the increasing volumes of encrypted information — the average of encrypted files per user per day was exceeding 300GB, as compared to the maximum average of 14GB per day before the crisis. For this reason, NordLocker's research team conducted a survey to find out what computer users' encryption habits are and the reasons behind them.
What do users encrypt on their computers the most?
When asked what type of files they encrypt with NordLocker, 71% of respondents said they use the tool to encrypt their personal sensitive files, whereas 36% claim they encrypt their sensitive work or business files.
"Confidential work-related documents can compromise not just an employee, but the whole organization if stolen or leaked," warns Oliver Noble. "I believe the percentage of those encrypting business files is about to grow. NordVPN's research shows that 62% of people are using their personal devices to work from home during the pandemic. This means that the risks to compromise work-related data are increasing and the need to protect it is greatly significant."
The most popular type of private files users encrypt with NordLocker is PII (personally identifiable information) — 61% of respondents claim they encrypt such files. 56% of respondents encrypt their tax records and financial information, 38% protect medical records, 37% encrypt passwords, 36% secure notes, and every third user encrypts their photo albums (30%).
ABOUT NORDLOCKER
NordLocker is the world's first end-to-end file encryption tool with a private cloud. It was created by the cybersecurity experts behind NordVPN - one of the most advanced VPN service providers in the world. NordLocker is available for Windows and macOS, it supports all file types, offers a fast and intuitive interface, and guarantees secure sync between devices. With NordLocker, files are protected from hacking, surveillance, and data collection. For more information: nordlocker.com.
Source: NordLocker
Share: