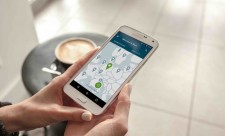 NordVPN explains security protocols and VPN service benefits to travelers using public Wi-Fi networks
New York, NY, May 10, 2017 (Newswire.com) - The travel season is almost here. Free Wi-Fi at cafes, airports, restaurants and city streets is used by almost everyone who's traveling — but how many people take an extra step to make sure their browsing is not only convenient, but also safe?
Last year, NordVPN (Virtual Private Network) released safety tips for public Wi-Fi, but the number of public Wi-Fi scams only seems to be increasing, showing that people still don't treat their online security seriously. According to privatewifi.com study, 79% of respondents still don't use a VPN when they go on public Wi-Fi. According to NordVPN's recent survey, almost 35% of respondents still didn't know such obvious rules that, for example, it was dangerous to shop online on a public network.
According to NordVPN's recent survey, almost 35% of respondents still didn't know such obvious rules that, for example, it was dangerous to shop online on a public network.

Marty P. Kamden, CMO
Most common ways that a hacker can take advantage of an unprotected Wi-Fi spot:
1. Honeypot Wi-Fi. The most common threat is still a hacker positioning himself as a Wi-Fi hotspot — the so-called honeypot Wi-Fi. When that happens, a Wi-Fi user will be sending their information to a hacker instead to a legitimate Wi-Fi spot — and that could include credit card information, private emails, and any other sensitive information. This technique is very easy for hackers, as Wi-Fi spots rarely require authentication to establish a connection.
2. Wireless sniffers. Hackers can be using sniffers, a software designed to intercept and decode data when it is transmitted over a network. Wireless sniffers are specifically created for capturing data on wireless networks, but are normally used by IT specialists to monitor the health of a network and diagnose problems. When a sniffer falls into a hacker's hands, it can be easily used to monitor and decode another person's private data.
3. Shoulder surfing. When an Internet user finds themselves in a crowded coffee shop or an airport, there might be data thieves lurking around, who will watch over a shoulder to memorize passwords or credit card information that one enters into their device. Just as it's important to be careful when entering a PIN number into an ATM machine, it's important to make sure no one is looking over a shoulder when going online at a public Wi-Fi spot.
How can an Internet user protect themselves when they go online at a public hotspot?
Actually, it's really simple — just a few easy rules need to be followed — and they will be safe on any public network.
1. Use a VPN. The best and most effective way for any traveler to protect their data is to use a VPN (Virtual Private Network). A VPN service encrypts all the traffic flow between the Internet and a device, thus hiding the user's IP address. Recently, VPNs have become a mainstream tool, and quite a few have been remodeled to be very user-friendly. For example, with NordVPN, users only have to turn to ON button, and they will be connected. The app (for Windows, Android, Mac or iOS) will then choose the fastest server to connect to. It's also important to be aware of free VPNs that typically rely on third-party advertisers to cover the costs. In addition to protecting one's online activities, a VPN will also help access banned sites in a different country (such as Facebook in Vietnam or Wikipedia in Turkey).
2. Use a firewall. It's important to make sure firewall is turned on before going online, especially on a public Wi-Fi spot.
3. Disallow automatic wireless network connection. Make sure automatic wireless connection are not turned on, and Wi-Fi is turned off when it's not being used — this will prevent hackers from automatically connecting to one's device.
4. Sharing settings should NOT be Public. To prevent anyone from finding and accessing one's device, it's important to make sure System's Settings are not set to Public sharing.
5. Be vigilant. It's always important to know who's around to avoid shoulder surfing or any other suspicious activities.
For more tips, visit www.nordvpn.com
ABOUT NORDVPN
NordVPN is the world's most advanced VPN service provider that is more security-oriented than most VPN services. It offers double VPN encryption, anti DDoS & Tor Over VPN services. NordVPN offers iOS, Mac, Android and Windows apps that provide a unique algorithm, allowing to automatically connect to the fastest server. The product is very user-friendly, offers one of the best prices on the market, has over 700 servers worldwide and is P2P friendly. One of the key features of NordVPN is zero log policy. www.nordvpn.com
Source: NordVPN
Share: