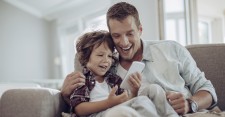 NordVPN's survey has found that 66 percent of Internet users lack basic online privacy knowledge
NEW YORK, September 15, 2017 (Newswire.com) - NordVPN has conducted a National Privacy Test – a survey of almost 5,000 respondents in English-speaking countries, which has determined that, on average, internet users are not aware of basic online security rules. The average rate of correct answers was 44 out of 100, showing some dangerous gaps in general public's cybersecurity knowledge.
"We understand that privacy tools can sometimes be overwhelming," said Marty P. Kamden, CMO of NordVPN. "Therefore, our goal is to find major weaknesses in cybersecurity knowledge of average internet users and show them the privacy tools used by experts. Moreover, we want to help people realize that significantly enhancing their security is not that complicated and can be done in few clicks. We have also noticed that even though people seem to know the answers to many questions, they do not apply their knowledge in practice. So we also want to close the gap between theory and practice when it comes to online security."
We at NordVPN want to close the gap between theory and practice when it comes to online security.

Marty P. Kamden, CMO
NordVPN has observed the following mistakes that people usually make in cybersecurity:
1. 94 percent of Internet Users Think They Recognize Phishing Emails – But Half of Them Keep Clicking. 94 percent of respondents said they would ignore an email request from a bank asking for personal information. Yet statistics show that up to 45 percent of internet users keep clicking on dangerous links or providing personal information where they shouldn't.
This suggests that although users may recognize basic malicious emails, more sophisticated phishing attempts often still work. NordVPN recommends checking the sender's address, looking for spelling and grammar mistakes and not clicking on links – instead, hovering the mouse over to see if it's legitimate (one of the indicators of legitimacy would be https URL).
2. Social Media Users Still Share Vacation Photos. According to the survey, while social media users know they shouldn't share their home address, current location or phone number on Facebook, half of them still share vacation photos or social plans. However, each time a social media user announces that they are on vacation, it's a signal that their home is empty. NordVPN recommends posting vacation pictures after getting home, never sharing personal data on Facebook, and protecting one's location by using a VPN, which allows setting one's location to any country in the world.
3. Many Online Shoppers Believe Public Wi-Fi Is Safe. It was found in the survey that as many as one-third of respondents believe that various activities – such as checking email, logging into a social media account, shopping online or checking a bank account – are safe on public Wi-Fi. While checking a bank account on a public hotspot is assumed to be very risky (less than 2 percent agree that is safe), entering banking credentials to make a purchase online is seen as a lesser risk (23 percent think it is safe). NordVPN recommends staying away from public terminals when shopping online and using a VPN when conducting any online transaction.
4. Information Overload Is Confusing to Internet Users. Only slightly over 50 percent of the survey respondents realized that an email confirming a genuine online purchase does not pose a security threat. The outcome shows that the topics of online privacy and security can be very confusing for an average internet user. If they are surrounded with information on various threats for long enough, every little thing starts looking like another phishing attempt. That's why it's so important to educate users about crucial online habits and tools so that they can tell credible threats from myths.
ABOUT NORDVPN
NordVPN is one of the most advanced VPN service providers that is more security-oriented than most VPN services. It offers double VPN encryption, kill switch and IKEv2/IPsec protocol. It launched Android, Mac, iOS and Windows Apps that provide a unique algorithm, allowing to automatically connect to the fastest server. The product is very user-friendly, offers one of the best prices on the market, has over 1,000 servers worldwide and is P2P friendly. One of the key features of NordVPN is zero log policy. www.nordvpn.com
Source: NordVPN
Share: