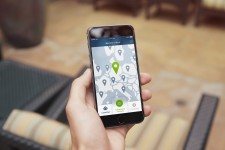 NordVPN reviews 10 main criteria for choosing a VPN
New York, NY, June 15, 2017 (Newswire.com) - NordVPN (Virtual Private Network) has seen its users growing steadily in 2017, reflecting the global tendency of Internet users looking for ways to protect their privacy.
For example, NordVPN's user inquiries from the USA doubled in 2017, following the presidential election, and especially after the new regulation, allowing ISPs to track and sell user activity without their consent.
By using a VPN, one's Internet traffic gets encrypted and routed through a secure tunnel between two points: the computer and a remote VPN server. This way, no one can access the data that passes through the tunnel — it becomes completely invisible to ISPs, government snoopers, advertisers, identity thieves and hackers.
However, not all VPNs are equal, and some might pose additional security risks to the user. Others might be located in countries that have anti-privacy laws — or they might be collecting user data and selling it to third parties. Also, Internet users should be aware of proxies that hide one's IP address like VPNs but do not encrypt Internet traffic.
NordVPN lists 10 questions that an Internet user should ask themselves before choosing a VPN service provider:
1. Does a VPN log Internet traffic? Some VPN providers might be required by law to log a user's Internet activity, and this depends on the country where they operate. Be aware of VPN service providers based in one of 14 Eyes or 5 Eyes countries, where government often practices surveillance and might require VPNs to provide user logs. When user information is logged, it could be easily shared with the government or any third parties. The safest choice is a VPN provider that does not log users' Internet activity and is not required to do so by law of the country where it operates.
2. Is it a free VPN? Any VPN provider that is offering a free service will be using other ways to earn money — and it's usually through selling user data. A safe VPN will have a price.
3. In how many countries does it have servers? The more servers a VPN has in different countries, the better it is. If a user wants to bypass geo-blocks on certain content, they can connect to a server —called exit node — in a country where that content is allowed. For those concerned about government surveillance and privacy, it's wise to pick a server outside of the country.
4. Does it slow down Internet traffic? Since VPN works as an encryption tunnel, it can sometimes slow down the Internet. If a VPN provider is a paid service, they will usually offer larger selection of servers to connect to — so when one is overloaded and slow, it's easy to connect to another one. Connecting to a server that's closer geographically might solve the slowdown issue.
5. What level of encryption does it offer? VPN protocols operate to establish a secure tunnel with a VPN. Some of these protocols are more secure than others. It would be wise to avoid PPTP protocol, which was one of the first security protocols introduced — however, it is now considered to be weak and insecure. The safest VPN protocols are OpenVPN and also IKEv2/IPsec, which employs very strong cryptographic algorithms and keys.
6. Is it a real VPN or a proxy? Proxies might be useful for streaming geo-blocked content, but not in each case. Additionally, any entity — such as an ISP, a government, or a hacker — can access users' data despite the proxy. Also, certain Flash or JavaScript elements in a user's browser can easily reveal their identity. Moreover, a proxy is only configured for a certain application, such as a web browser, but is not installed computer-wide. Those who are not concerned about keeping their Internet traffic safe, and only want to stream a movie, can use proxies. Otherwise, in order to protect security and privacy, a VPN is recommended over a proxy.
7. Does it have mobile apps? It's not enough to protect a desktop computer — since mobile devices also contain sensitive and private information, it's important to protect them too. Before signing up for a certain VPN provider, it's wise to check out all their mobile apps and to see how easily they operate on mobile devices.
8. Does it work on different platforms? Not all VPNs work on every platform — some might operate only on Apple devices, for example. A well-established VPN functions across different platforms, including iOS, Mac, Android and Windows.
9. Does it allow to unblock geo-blocked content? Some VPNs might not be able to unblock popular streaming services, such as Hulu, BBC iPlayer or Netflix. A user should check with the VPN they are considering to make sure they will be able to unblock the content they wish to watch.
10. Is it easy to use? User experience is an important factor when choosing a VPN. Some might still have clumsy websites and hard-to-find buttons. While VPNs were initially a tool used mostly by early adopters, currently many VPNs have updated their user interfaces and are easy to use by anyone who goes online. For example, NordVPN only requires to turn the ON button. The app can quickly connect a user to the desired destination by simply clicking on the country name, as it automatically selects the quickest server available. The application contains many user-friendly features, including kill switch, detailed server list, access to SmartPlay technology and more.
Source: NordVPN
Share: