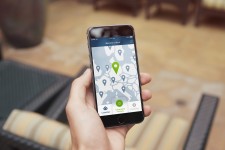 NordVPN presents 10 must-have apps for the brand new iPhone 7 to keep all data safe and protected
New York, NY, September 27, 2016 (Newswire.com) - ​The new iPhone 7 comes with exciting new features: it's now waterproof, has a longer battery life and a better camera, among other things. The new phone also comes with a convenient private data transfer - when a user acquires a new phone, their passwords, history of visited sites, information exchanged on messaging apps and other data are transferred from the old device to the new one.
Convenient as it might be, a new smartphone is now an attractive one-stop location for hackers, who'd like to access all the important information: personal bank account data, credit card passwords, name, address, social media accounts and so on.
Convenient as it might be, your new smartphone is now an attractive one-stop location for hackers, who'd like to access all of your important information: bank account data, credit card passwords, name, address, social media accounts and so on.

Marty P. Kamden, CMO
What happens when someone's personal information is stolen? According to Javelin Strategy & Research firm, one out of three times it's used for identity theft. When someone's identity is stolen, their money could be taken off their checking account or credit card at any time. Worst of all, most victims of identity theft are left to take care of the debts incurred, and to deal with a ruined credit.
It's no coincidence that privacy and security apps have been rising in popularity among smartphone users. Here are security boosting tools for the iPhone 7:
Secure Messaging Apps. In order to communicate safely on a smartphone, Tor Messenger ​is a convenient solution. Tor Messenger is launched by Tor Project creators, who offer the world's most popular encrypted Internet browser, synonymous with "the dark web." Tor Messenger is a cross-platform chat app that is secure by default and sends all messages over Tor Network. The app supports a good number of transport networks, such as IRC, Google Talk, Facebook Chat, Yahoo, and others, and enables Off-The-Record (OTR) messaging - a safe and encrypted way to have private conversations - over Tor's network of computers for greater anonymity. Signal is an encrypted messaging and voice calling app that provides end-to-end encryption to secure all communications. The app can also verify the identity of people one is messaging with and the integrity of the channel they are using. When texting with non-Signal users, one has an option to invite them to an encrypted conversation via Signal.
Password Security apps. It's always advised to change passwords in order to stay safe online, and that means having to use a unique password for each site or account. Those who work in teams, often experience a password issue: there are just too many passwords to remember for all the accounts, and it might feel like a full time job to keep every account secure. As a result, many people keep the same password for almost everything. 1Password for Teams (from the makers of the original 1Password) lets an entire team securely log in with only one single password, as the app remembers all the real passwords. The data is encrypted before any information leaves a device. A new product is 1Password for Families that allows a family to share passwords, credit cards, and other sensitive information. The app remembers everything, keeps the information safe and signs one into their favorite sites with one click.
Internet encryption Apps. Those who aim to keep all their online activity private, should get a VPN for their phone. A VPN creates a connection tunnel that automatically encrypts all the data coming in and out of a device, secures the Internet traffic, and effectively protects anyone using the Internet. NordVPN (Virtual Private Network provider), which has a reputation of offering a military-grade protection, is fast and easy to use. The developers at NordVPN have launched a powerful new app for iPhone that is also intuitive and good-looking. The new iOS app re-routes and encrypts all Internet traffic making the connection private and secured while using top of the line security protocol IKEv2/IPsec.
Email Security Apps. Industrial espionage is getting more and more sophisticated, leading to billions in damages. That's why everyone needs a secure app that will encrypt all emails. M for iOS, also known as Mynigma, is a strange-sounding app that evokes James Bond's boss. The app provides automatic end-to-end encryption directly on the device, not in the cloud. It allows users to easily manage keys and can be used across devices. The ZeroEmail App is a self-learning email app created to organize the inbox by relevance or importance. It has an original card-style format that allows for single swiping, making it quite fast and easy. Zero does not store messages and personal information on remote servers, meaning it all stays on the phone.
iPhone data security apps. Keeply is a spy-level app for an average user. It stores a user's private moments and data - pins, credit cards, notes, photos and videos - right on the phone. Although the idea itself is not particularly new, Keeply's strong features make it a refreshing app. For example, it provides a Fake Pin feature, which is alternate password that the user can give to their nosy friends or family - when they enter it, the app shows an empty application. Face-down Lock, on the other hand, causes Keeply to close immediately when it's placed face down. It can also take a photo of anyone who enters a wrong pin into the phone. Best of all: nothing ever leaves the phone. Besides, it's aesthetically-pleasing and easy to use.
Paired device lock apps. iPhone security apps can go one step further than smartphone's protection - these apps can also save a user's computer, remotely. When a user gets up from their desk and go for a coffee, they might suddenly remember that they have left their work computer with some private windows open. LockItUp app allows to simply lock a PC or Mac from anywhere by using iPhone. It's all cloud-based, so there's no need to be on the same Wi-Fi or network for it to work. The app runs in the background quietly and consumes very little CPU. Another similar app is Knock 2.0: when a user wants to lock their Mac, they just need to pull out their iPhone and knock on it twice, even if it's in the pocket. That's all it takes. It's ideal for Apple Watch users, too - after a fingerprint is provided, a user can lock or unlock their Mac with just one tap.
These are just a few of the many powerful new apps that are being launched to protect private information. They come right on time, as identity theft statistics grow all the time.
Each year, almost every person gets affected by at least one hacking attempt, and over a billion of personal records get accessed illegally. This year alone, hackers have broken into accounts of major public figures, such as Mark Zuckerberg, hijacked a computer network of Hillary Clinton's campaign, stole $65 million worth of cryptocurrency from a Bitcoin exchange and accessed more than 330,000 cash registers at restaurants, hotels and stores.
If major public figures and companies are vulnerable to attacks, every user must make sure that at least the information that they can control - that is stored on their smartphones - is safe and secure.
ABOUT NORDVPN
NordVPN is the world's most advanced VPN service provider that is more security oriented than most VPN services. It offers double VPN encryption, anti DDoS & Tor Over VPN services. It has just launched a new NordVPN Mac, Android and iOS Apps that provide a unique algorithm, allowing to automatically connect to the fastest server. The product is very user friendly, offers one of the best prices on the market, has over 550 servers worldwide and is P2P friendly. One of the key features of NordVPN is zero log policy. www.nordvpn.com
Source: NordVPN
Share: